Paw Pursuit
A B2C mobile app that's committed to improving and simplifying life for pet parents and their dogs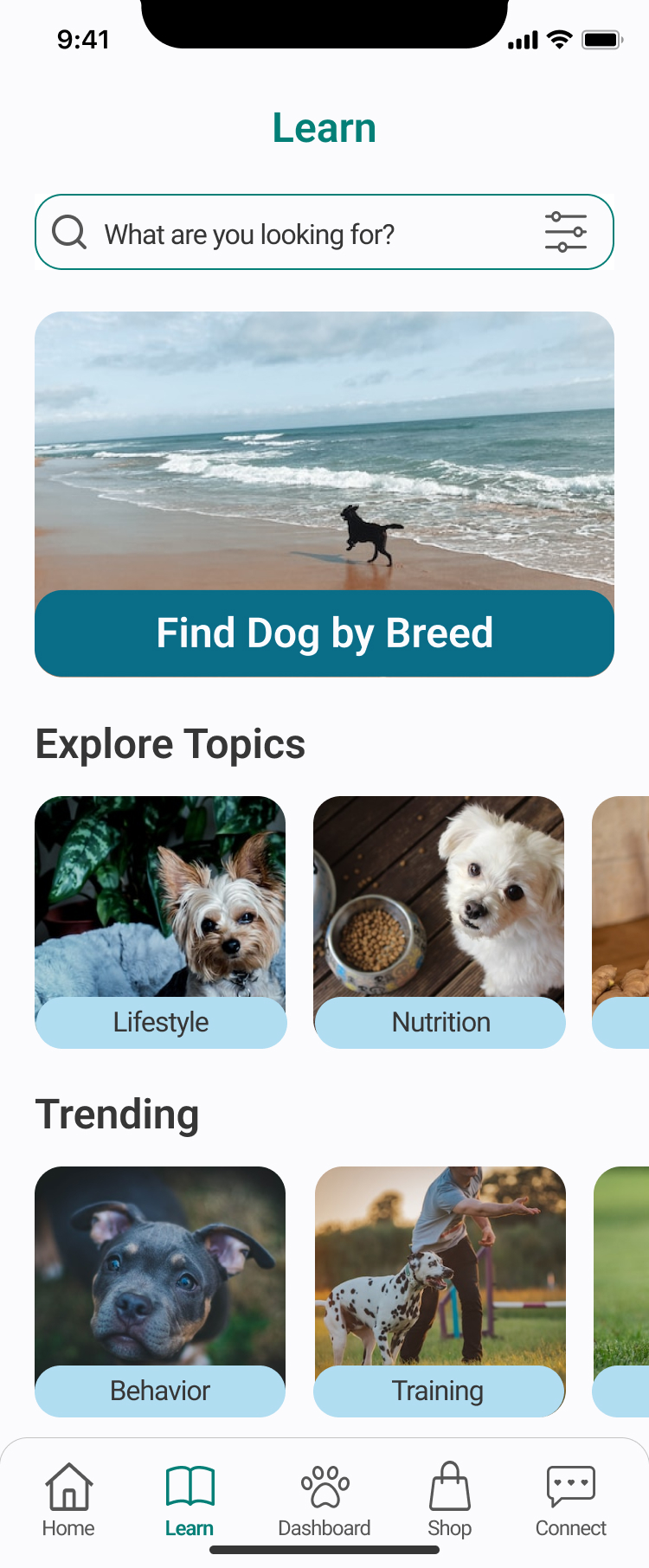 Overview
Navigating the world of pet care can be a daunting experience, especially for novices or seasoned pet owners. With an abundance of information to sort through, it can be challenging to determine where to start. However, Paw Pursuit is a user-friendly app that offers a delightful discovery and learning experience, allowing pet owners to achieve a sense of happiness and tranquility. The app enables pet owners to easily connect with other pet owners and keep track of their pets' requirements, streamlining the process.
Problem
Many dog owners face difficulties in providing the appropriate care and taking the necessary steps to meet the specific requirements of their dogs' breeds. There is a lack of communication across platforms among pet parents to share their concerns and queries, which results in forgetfulness about accomplishing goals, needing reminders, and keeping track of their dogs' activities to stay organized.
Solution
I designed "Paw Pursuit", a user-friendly app that serves as a comprehensive guide to help dog owners learn about their pets' needs. The app features intuitive user interfaces that allow users to engage with one another through group messaging, and stay on top of their pet's wellness goals by setting reminders and tracking their dog's daily activities and progress.
Role:
Sole UX/UI Designer and UX Researcher
Process:
Discovery

Ideation

Design

Testing

Reflection
Secondary Research
Through my secondary research, I discovered that identifying appropriate care for one's pet is a prevalent challenge among dog owners. Many struggle to access reliable information tailored to their specific dog breed. While some seek advice from their veterinarian or consult friends and family, others turn to social media for guidance.
Surveys
Following my secondary research, I moved on to the recruitment stage of my design process. I sought to gather more in-depth insights into the experiences of dog owners when it comes to caring for their pets. To achieve this, I created a screener survey that helped me to identify and select potential interviewees. The survey yielded 38 high-quality responses that provided valuable insights into my target users' needs and pain points.
Participant characteristics:
Has owned or taken care of a dog.

Know the importance of basic dog needs.

Has experienced challenges with their dogs.

Expresses interest in learning helpful tips and tricks.

Willing to stick to a routine of caring for their dogs.
Interviews
I conducted user interviews with 5 participants that fit my study's demographics, focusing on their current routines with their dogs and their pets' behaviors. The insights gathered informed the development of a user-centered solution.
Key takeaways from the research process include:
Pet owners share concerns about the health of their pets.

Pet owners want a way to communicate with each other for advice.

Pet owners would benefit from learning more about their pet's nutrition.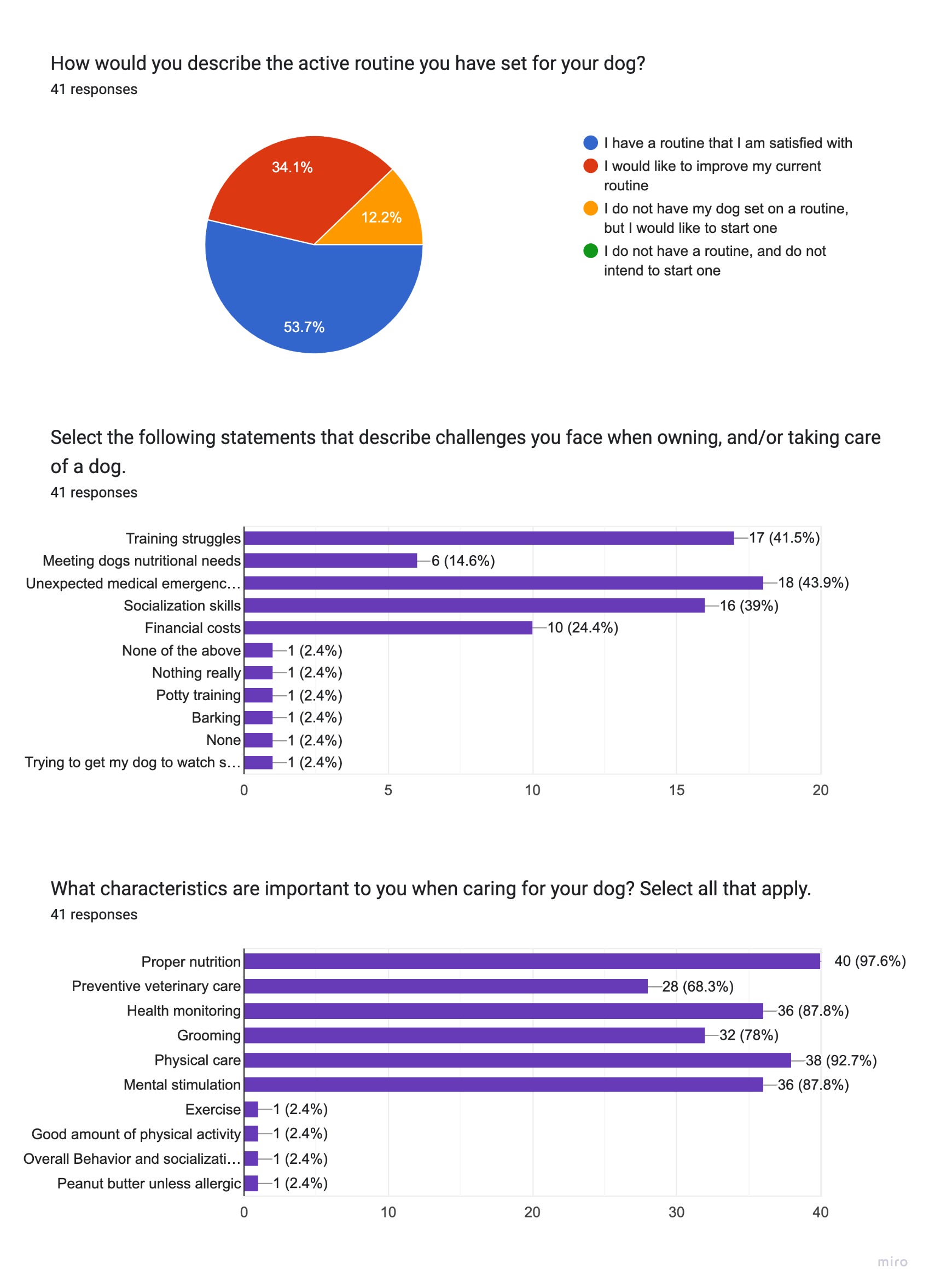 Synthesize
Leveraging the insights gained from my user interviews, I synthesized the data by identifying common patterns and groupings of similar issues faced by my participants. Despite initial differences in attitudes and behaviors, I discovered shared pain points that informed the creation of Personas and How Might We (HMW) statements. To achieve this, I utilized two effective analysis methods: Affinity Mapping and Empathy Mapping.
Affinity Mapping
Using the insights gathered from my user interviews, I created an Affinity Map that consisted of 97 sticky notes abstracted from the data. By doing so, I was able to gain a better visual understanding of the common themes that emerged from users' experiences when trying to establish a routine for their pets. Based on these themes, I then categorized the data into 8 distinct categories to further analyze and synthesize the user insights:
Resources/Knowledge

Feelings of being a dog owner

Frustrations

Routine

Products/brands used

Health concerns

Goals

Behaviors/actions that are challenging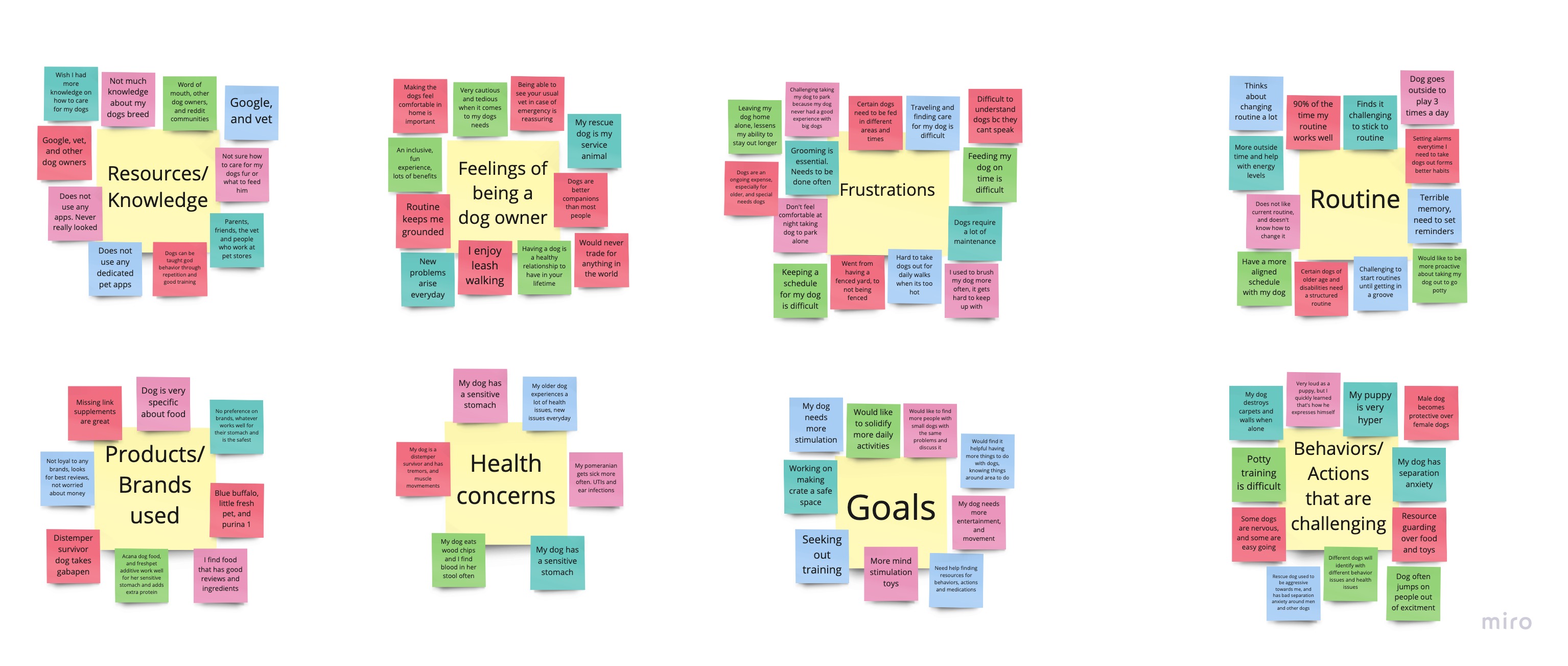 Empathy Mapping
By conducting user interviews and creating an Affinity Map, I was able to synthesize and organize my insights effectively, providing me with a deeper understanding of the users' pain points, goals, thoughts, behaviors, and feelings. Utilizing the Empathy Mapping technique, I identified two distinct user archetypes: The Practical Caretaker, and The Good Companion, each with their own unique set of needs, motivations, and expectations when it comes to dog care.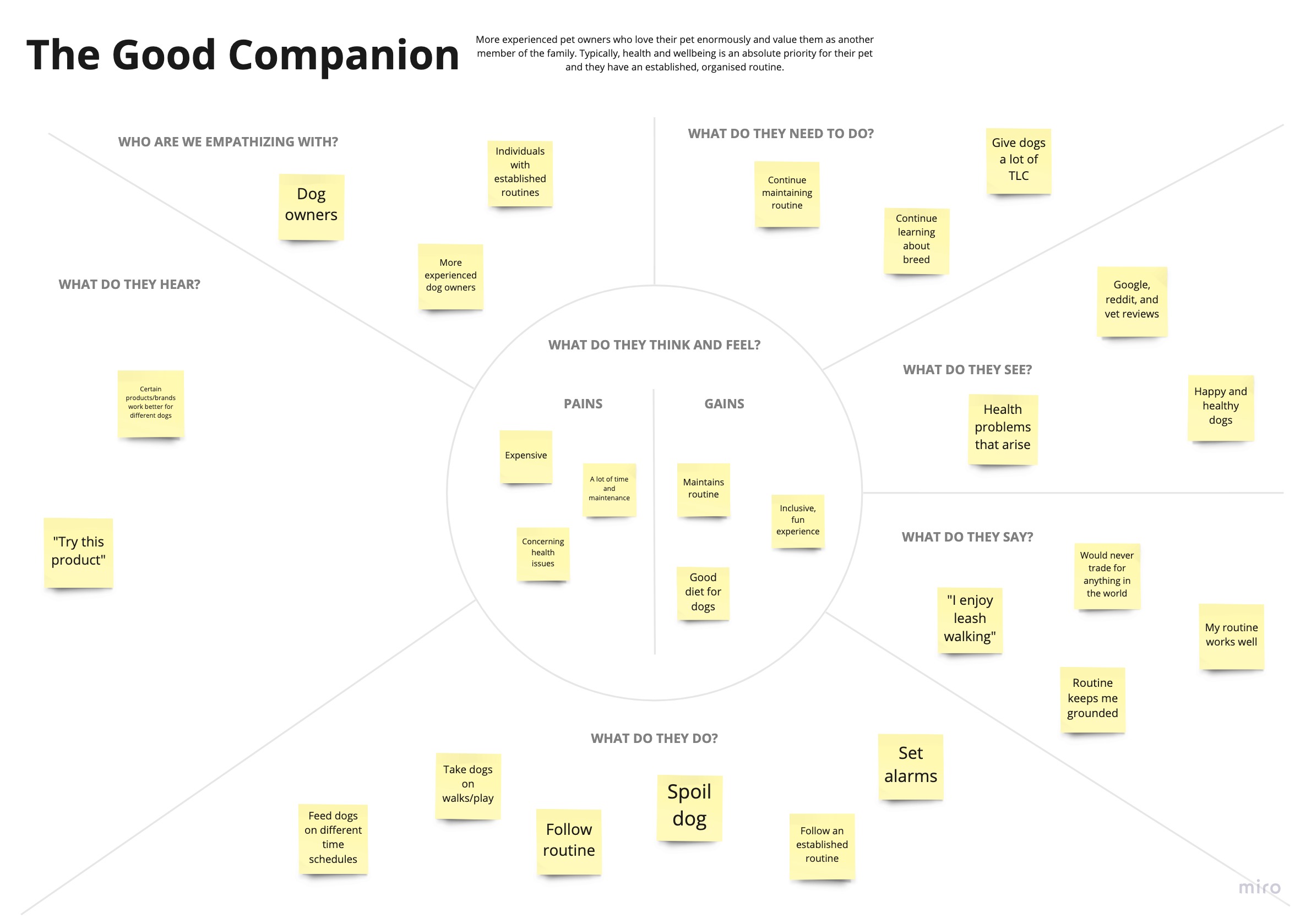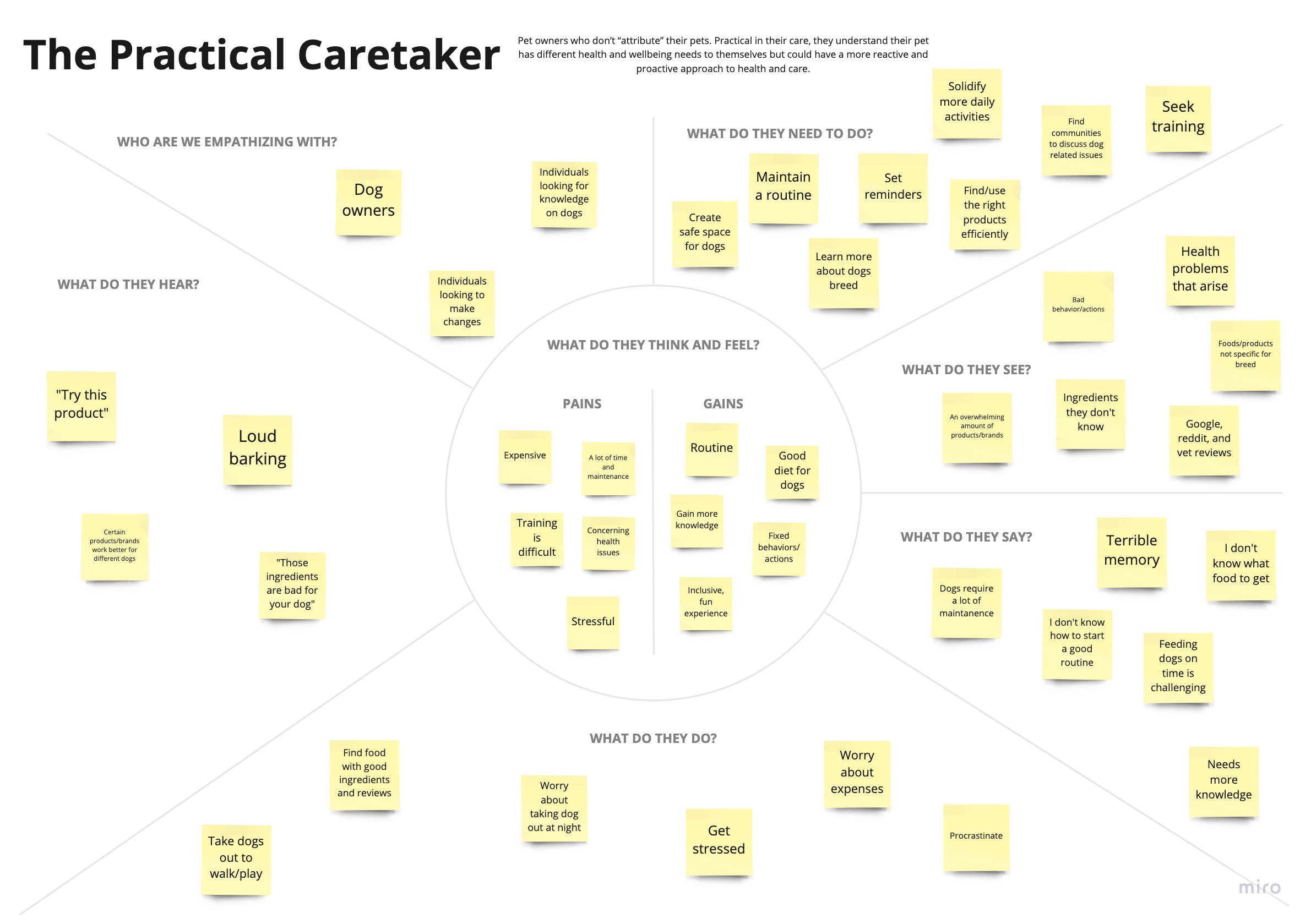 Personas
Upon analyzing the Empathy Maps and identifying distinct user archetypes, I developed two sets of personas - the Practical Caretaker and the Good Companion. These personas allowed me to gain a deeper understanding of the users' needs, motivations, and behaviors, ultimately enabling me to empathize with them and generate innovative solutions to address their pain points.
Laura, who loves being outdoors, but struggles to balance work and home life, needs more ways to entertain her dog.

Matt, who is a very proactive dog owner, needs a few reminders to stay consistent.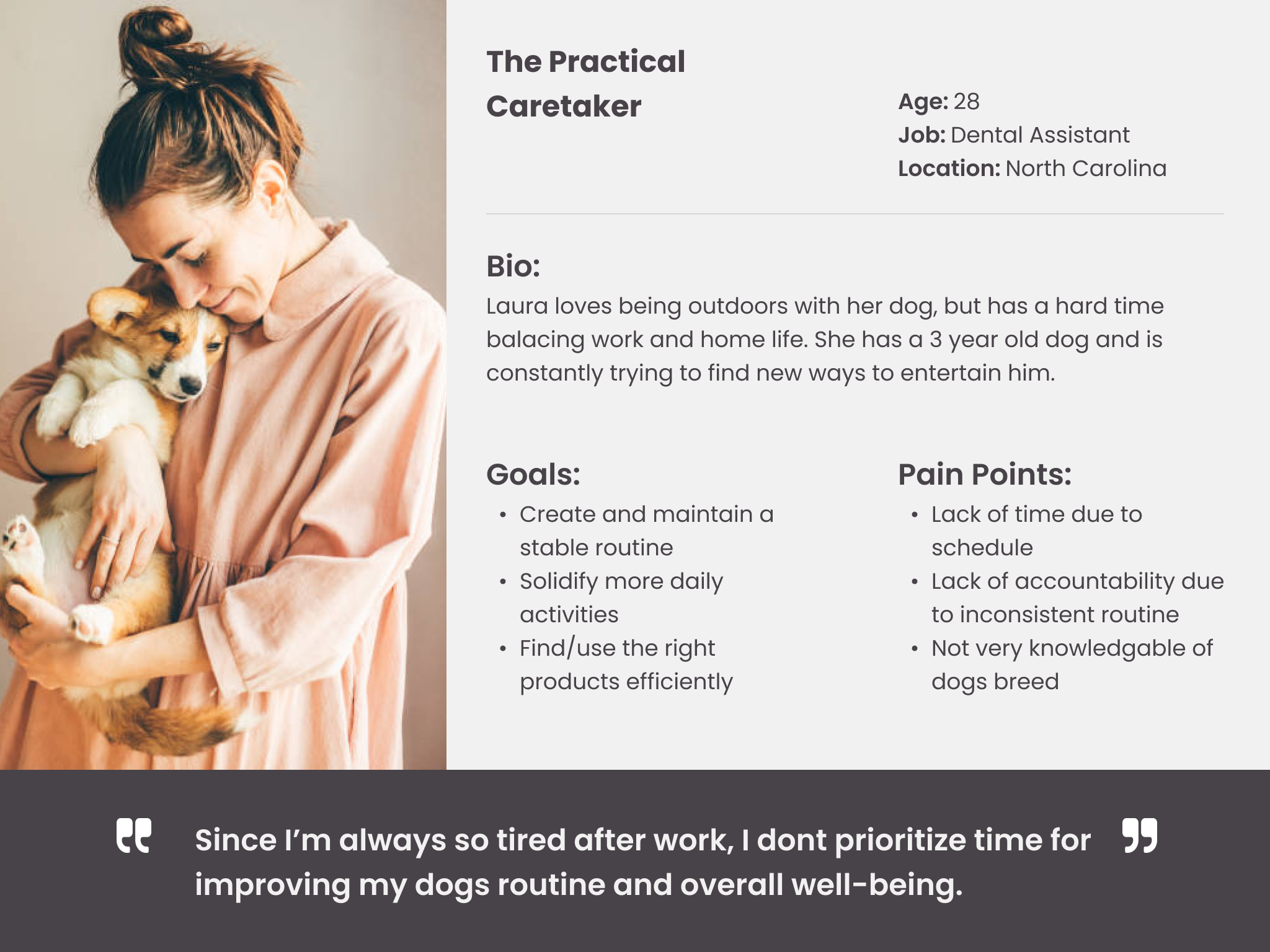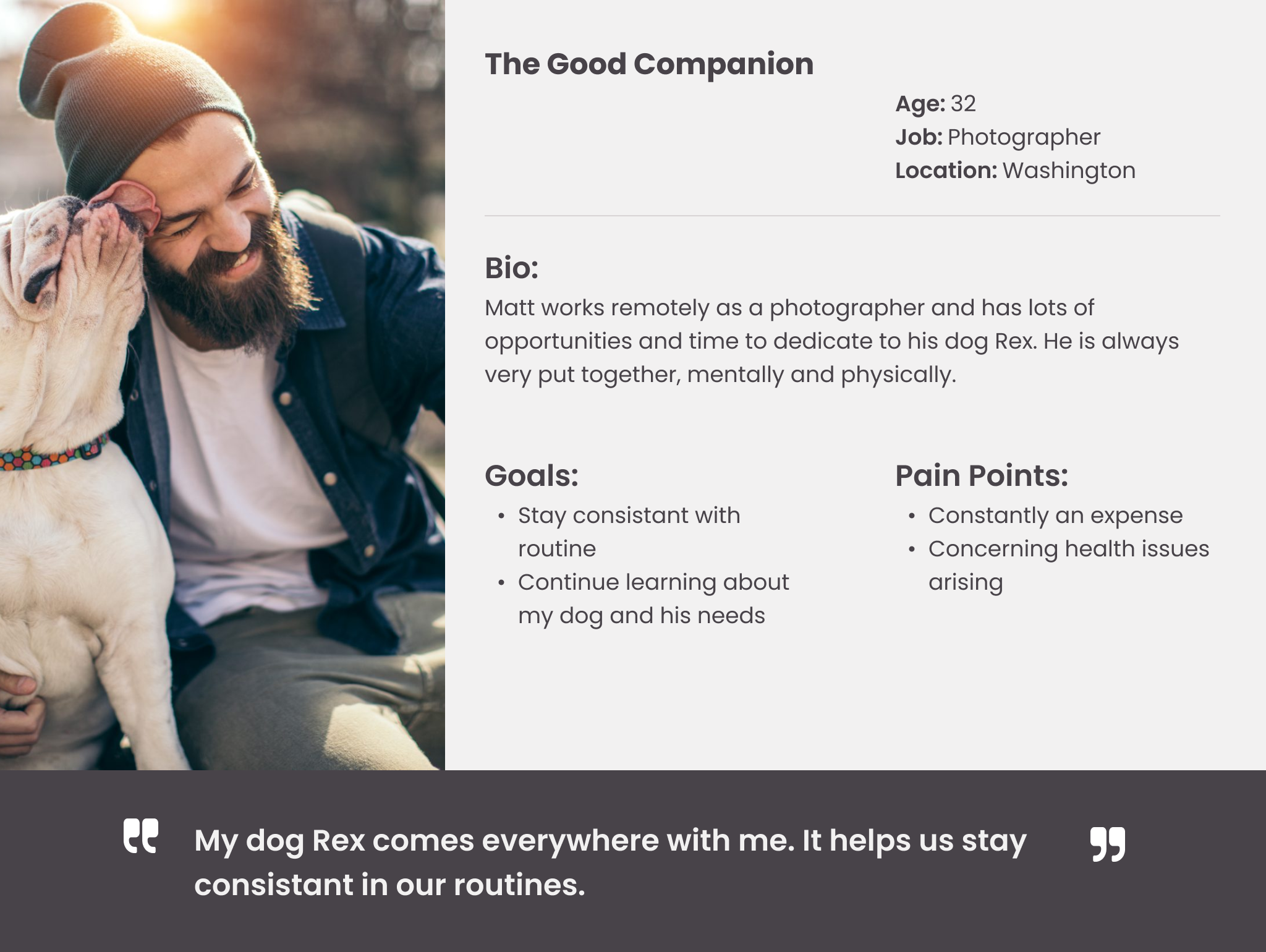 Problem Statements (HMW)
After analyzing my research and leveraging my findings from the discovery phase, I was able to easily formulate How Might We (HMW) statements to generate a range of innovative solutions aimed at resolving the identified pain points.
How might we relieve the sense of being overwhelmed that dog owners feel when they try creating new routines?

How might we encourage people to stick to a routine?

How might we help dog owners struggling to find the right diet for their dogs?

How might we make it less difficult to get access to the training and information needed?

How might we connect users by interests?

How might we ensure our users feel confident in our product and trust that it can easily help them gain the right knowledge and tools?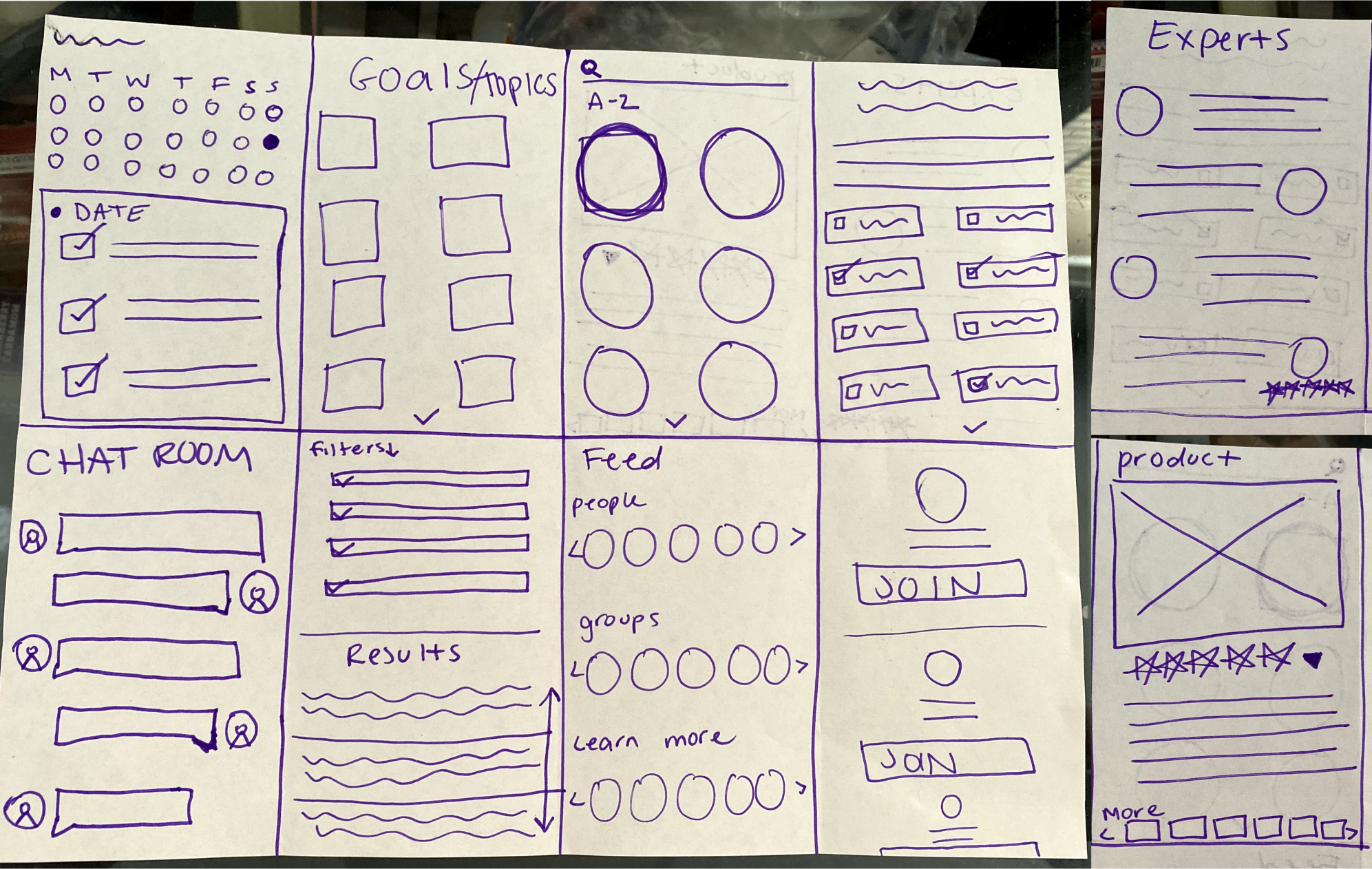 Ideate
Based on my extensive research and synthesis, I now have ample insights to commence the ideation phase, where I will begin sketching, generating ideas, and establishing concepts to tackle the identified pain points of users.
User Stories
Using user stories enabled me to establish a shared language and a mental framework for the project, promoting greater empathy with my target audience. With the user stories in hand, I began developing the Minimal Viable Product (MVP), sorting the stories based on their priority level to create essential values for users.

Sitemap
Using my user stories as a reference, I proceeded to identify and prioritize key features for my app. I then created a sitemap to ensure that all screens, functions, and features were organized in a coherent and intuitive manner.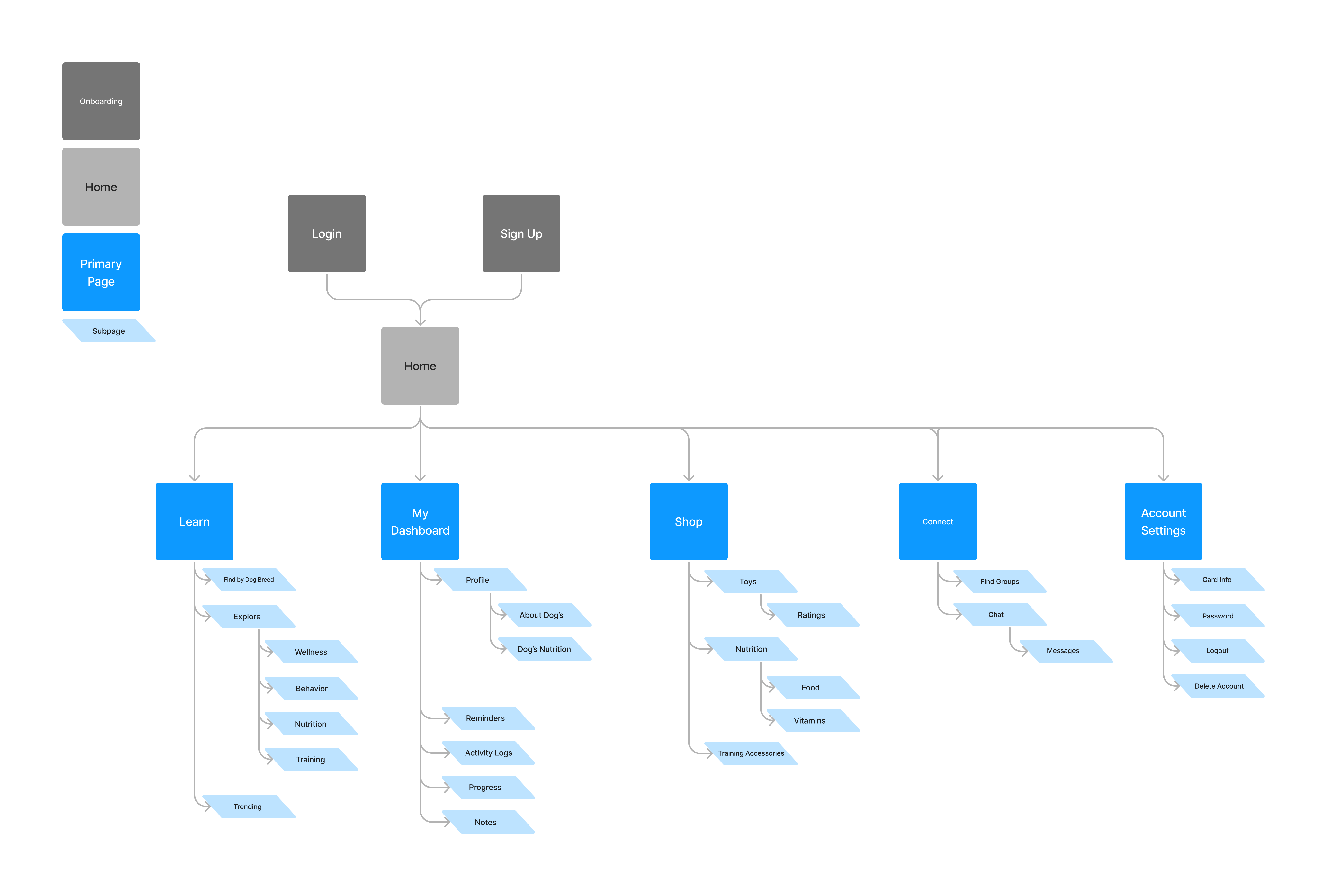 User Flows
Using the sitemap as a guide, I mapped out 3 essential red routes that align with the most common user goals. These user flows demonstrated how users can accomplish their tasks seamlessly, without encountering any roadblocks or obstacles.
Search dogs by breed and safe to profile.

Track the dog's daily activities.

Find other dog owners with similar problems and discuss them.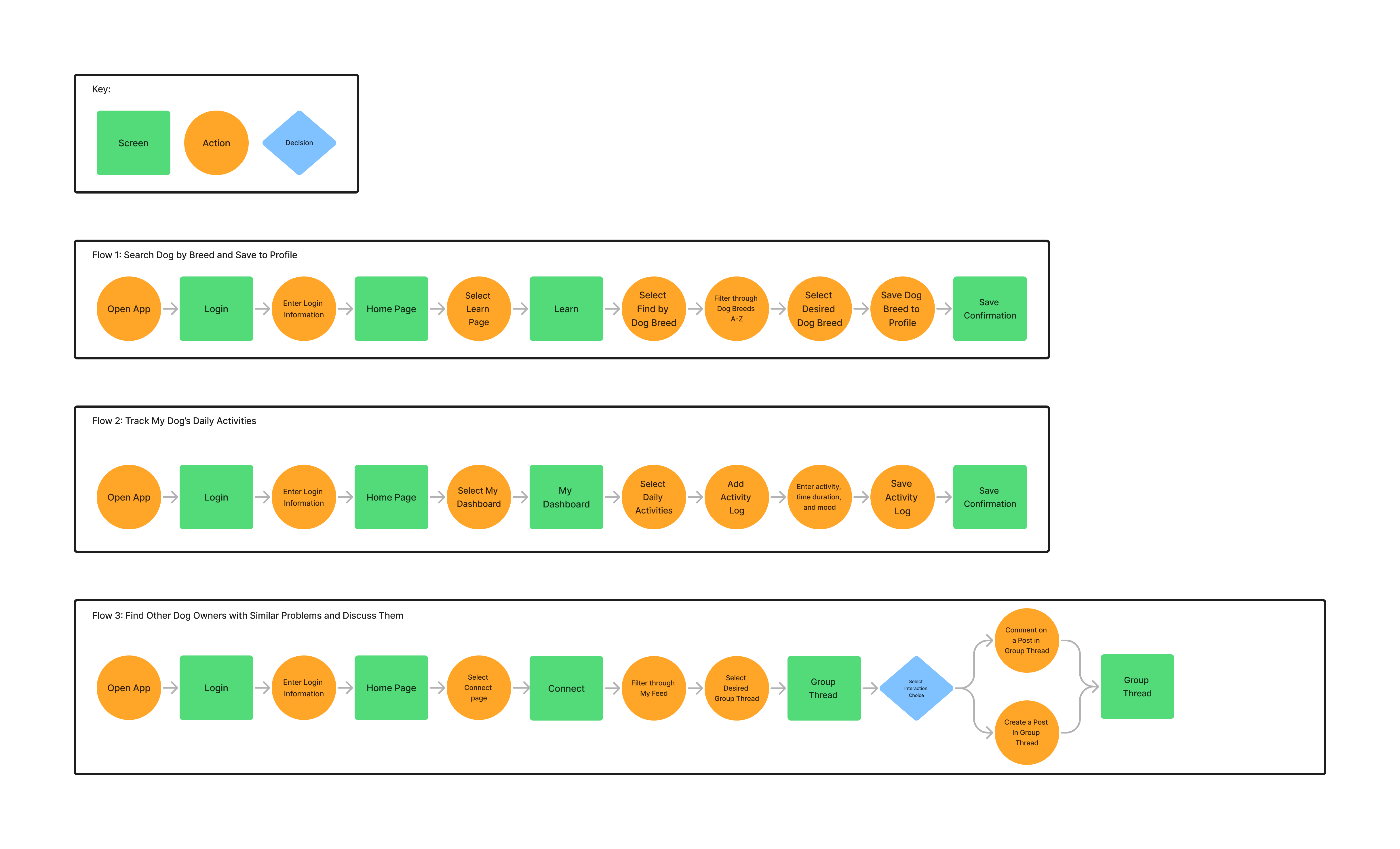 Sketching
During the ideation phase, I used sketching as a fundamental step to bring my ideas to life. With pen and paper, I explored various approaches and design patterns, taking inspiration from popular applications with similar functionality to guide my design process.
To generate more ideas, I utilized the Crazy 8s technique, a popular ideation method in UX/UI design. My primary focus was to ensure that the app's interface was intuitive, straightforward, and easy for users to navigate while maintaining simplicity in design.
Wireframes
By digitizing my sketches in Figma, wireframing elevated my design process. I started with low-fidelity wireframes to visualize the overall look, then progressed to medium-fidelity wireframes for a more detailed focus. To ensure the best UI practices, I drew inspiration from various apps and prototypes to determine essential features for each screen. The project's design elements include wireframing, low-fidelity and medium-fidelity wireframes, basic features, and best UI practices. The app's design was structured and well-planned, taking into account the necessary features and industry standards. Low-fidelity wireframes established a basic layout, while medium-fidelity wireframes honed in on finer details.
Brand Platform
Developing the brand platform enabled me to establish a clear direction for my project by defining a vision that sets the standard of what my brand aims to achieve, and a mission that guides the vision. The mission statement is "Committed to improving and simplifying life for pet parents and their dogs, through proper nutrition and care. Pet parents can discover, learn, and connect with others, giving them a sense of bliss, and peace of mind", this reflects the core values of the brand and outlines its purpose.
Mood Board
I developed a mood board that aligns with my brand's personality, attributes, and mission. The UI elements I selected were carefully chosen to convey a sense of playfulness, efficiency, inspiration, and inviting aesthetics, creating a cohesive visual language that accurately reflects the brand's essence.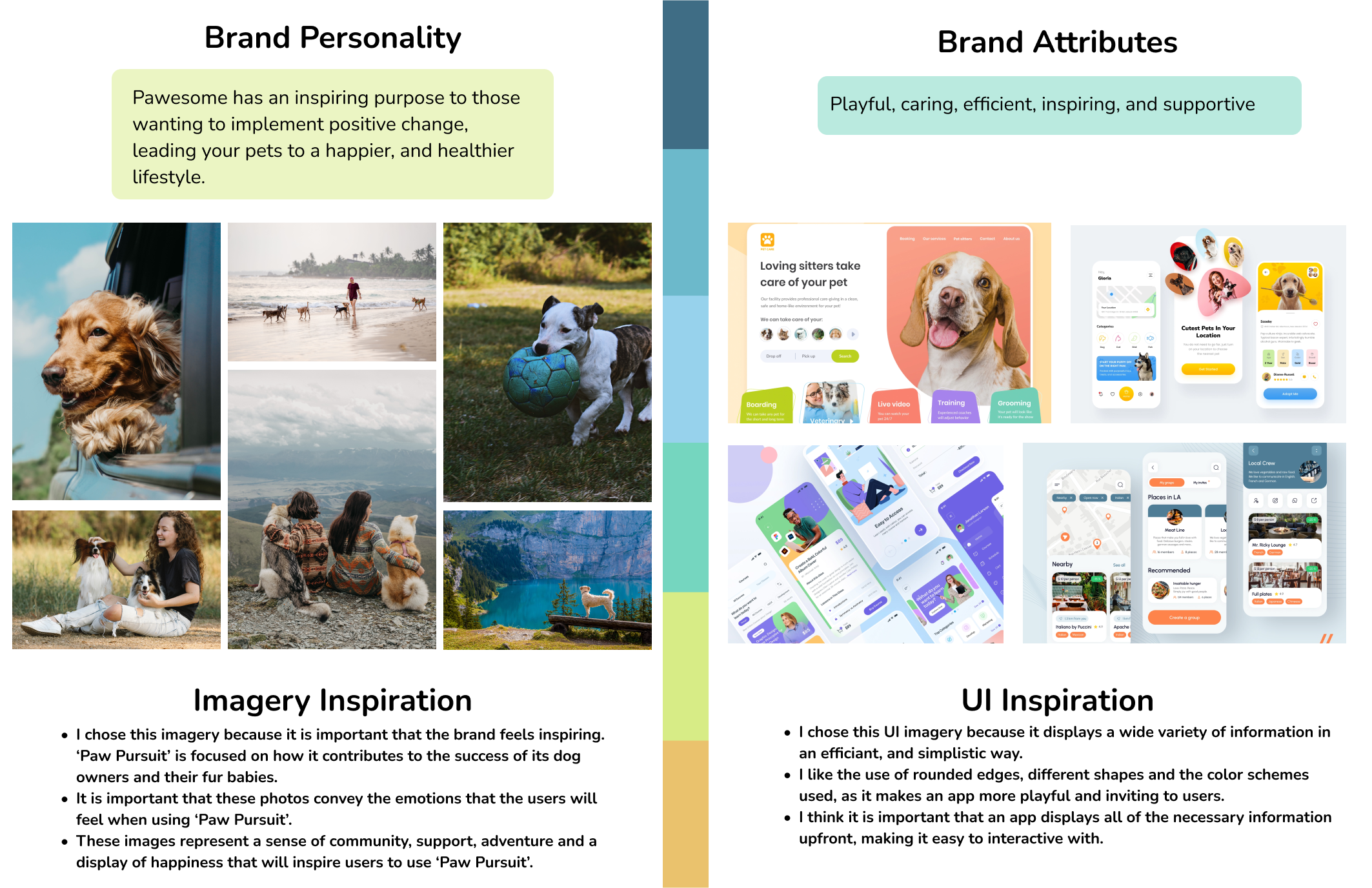 Style Guide
Once the user flow and structures of the app were established, I shifted my focus to developing the design system. As a UX/UI designer, I meticulously crafted the brand's visual identity by carefully selecting a color palette, typography, iconography, and brand logo that aligned with the overall design direction and brand persona. Through careful consideration of color psychology and font pairing, I was able to establish a cohesive and memorable brand identity that distinguished the app in a highly competitive market. Throughout the design process, I continually iterated on the design system to ensure that it remained consistent with the brand's vision and user needs.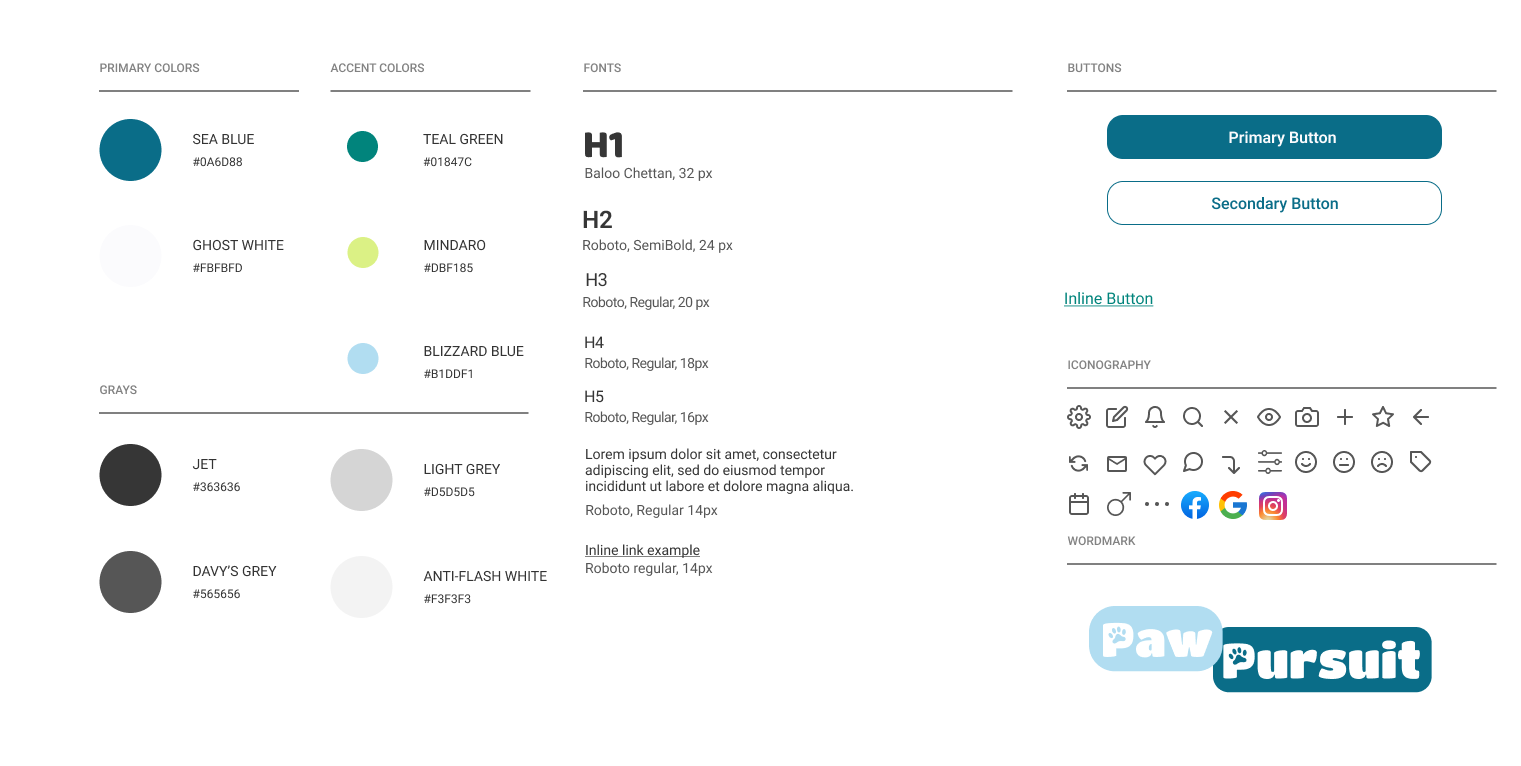 High Fidelity Screens
As a UX/UI designer, I employed an iterative design process to enhance the sketches and wireframes, ensuring that the user interface was intuitive, easy to navigate, and visually consistent with the design system. By conducting multiple rounds of iteration, I evaluated the efficacy of each version and identified the most efficient and user-friendly approach to guide users in performing tasks confidently and effortlessly. I integrated elements from the medium-fidelity wireframes, such as cards and calls to action (CTAs), into the high-fidelity designs. To ensure uniformity, I followed the design system guidelines, incorporating well-established UI principles adopted by popular apps in the market.
Prototype
Upon completion of the Hi-Fi mockups, I utilized Figma to build a prototype of the crucial user journeys. During this process, I made iterative changes to enhance the flow of transitions and remained mindful of any potential usability issues that may have hindered the testing phase.
Usability Testing
In preparation for Usability Testing, I created a test plan and a testing script and recruited 5 participants from the target user group of dog owners for remote, moderated usability tests. The objective was to identify any usability issues and enhance the UI design. Following the testing sessions, I took individual notes for each participant, which I then utilized to generate an affinity map.
Conducting usability testing with the target user group of dog owners provided crucial insights into their user experience and interactions with the application. The testing allowed me to assess the effectiveness of the interface design and evaluate the information architecture based on participant performance. The participant selection process was based on the target user group, which ensured that the testing results were relevant and useful in enhancing the overall user experience.
Objectives
Conduct usability testing to uncover any potential usability problems.

Evaluate the effectiveness of the app's red routes by gathering feedback from users.

Obtain insight into the overall impression and experience of users while interacting with the app.
Tasks
Utilize the "Find and Select Breed" feature to add your dog's breed to your pet profile.

Access the dashboard and select "Add New Activity" to record the activity in the log.

Search and filter for a group based on the problem you are facing with your pet, using the group-finding feature.

Browse through the group and select a relevant post to comment on, using the commenting feature.

Use the "Create Post" feature to post a new thread to the desired group.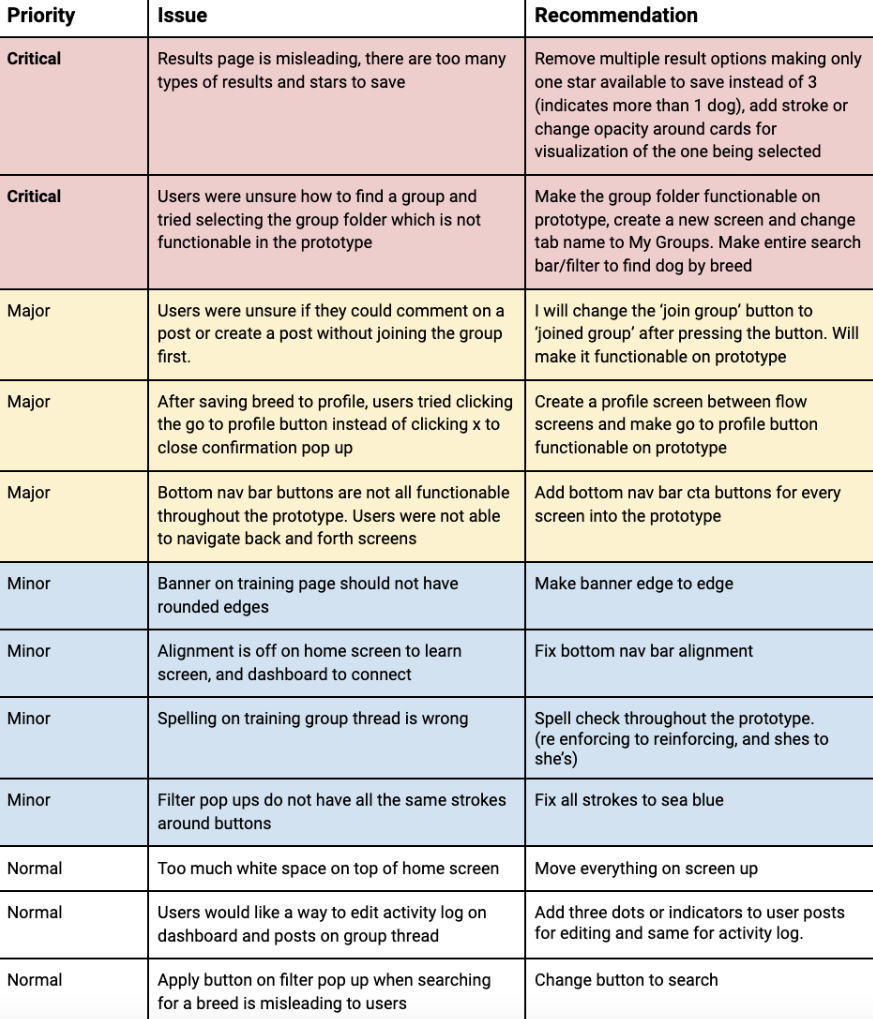 Test Report
After conducting the usability testing, I analyzed the data to identify critical and major usability issues that required immediate attention. Once the top three issues were resolved, I tackled other significant, minor, and cosmetic issues that were discovered during testing.
Observing the participants use the app provided valuable insights. All participants were able to complete the tasks and found the experience easy to use overall.
Issue 1
I found that users had a difficult time understanding which buttons were being selected on the results screen, and thought they were saving 3 different dogs to profile instead of one. Thus, I reorganized my screens so that the user was only able to select and save 1 breed to the profile.
Issue 2
During usability testing, users struggled to find groups by selecting the incorrect "group" folder. To address this, I renamed the folder to "My groups" and created a new screen for finding and joining groups, improving the user experience.
Issue 3
Based on user feedback, it was found that many users desired to access their profile after saving a breed. However, this feature was not available in the existing flow. As a solution, a new profile screen was designed and implemented to enable users to interact with it seamlessly after saving a breed.
Synthesize and Redesign
Following the usability testing and identifying common issues, I utilized the recommendations to enhance the UI design. I iteratively redesigned the screens by reorganizing them to optimize task flow, incorporating additional navigations for users to have more control, clarifying certain words and screens to enhance user confidence, and simplifying the design. I synthesized all the feedback to arrive at the final UI design.
During the project, I demonstrated considerable growth as a UX/UI designer by incorporating feedback at every stage. As the sole UX/UI designer for Paw Pursuit, I approached each assignment with confidence, expanding my industry knowledge and applying best practices to deliver outstanding results.
My journey has been incredibly rewarding, and I have gained a wealth of knowledge, insight, and appreciation for the design process. Seeing an idea or concept come to life has always intrigued me, and being able to create something tangible on a subject I'm passionate about has been truly enjoyable. Pursuing UI design has ignited a fire in my soul and given me a newfound passion for developing professionally.
I am immensely proud of what has been developed thus far, but there is always room for improvement. If I had more time to work on this project, I plan to implement a feature that connects users with pet experts, such as their vet or groomer, and create a dashboard that allows users to track their pet's nutrition and create a food plan. I am eager to continue developing and progressing in my career, and I look forward to future projects and experiences.
Thank you for reading my case study!
Want to share ideas & discuss ways to collaborate? Send me a message!