Plannie
A B2C desktop platform that allows users to connect and hire local event planners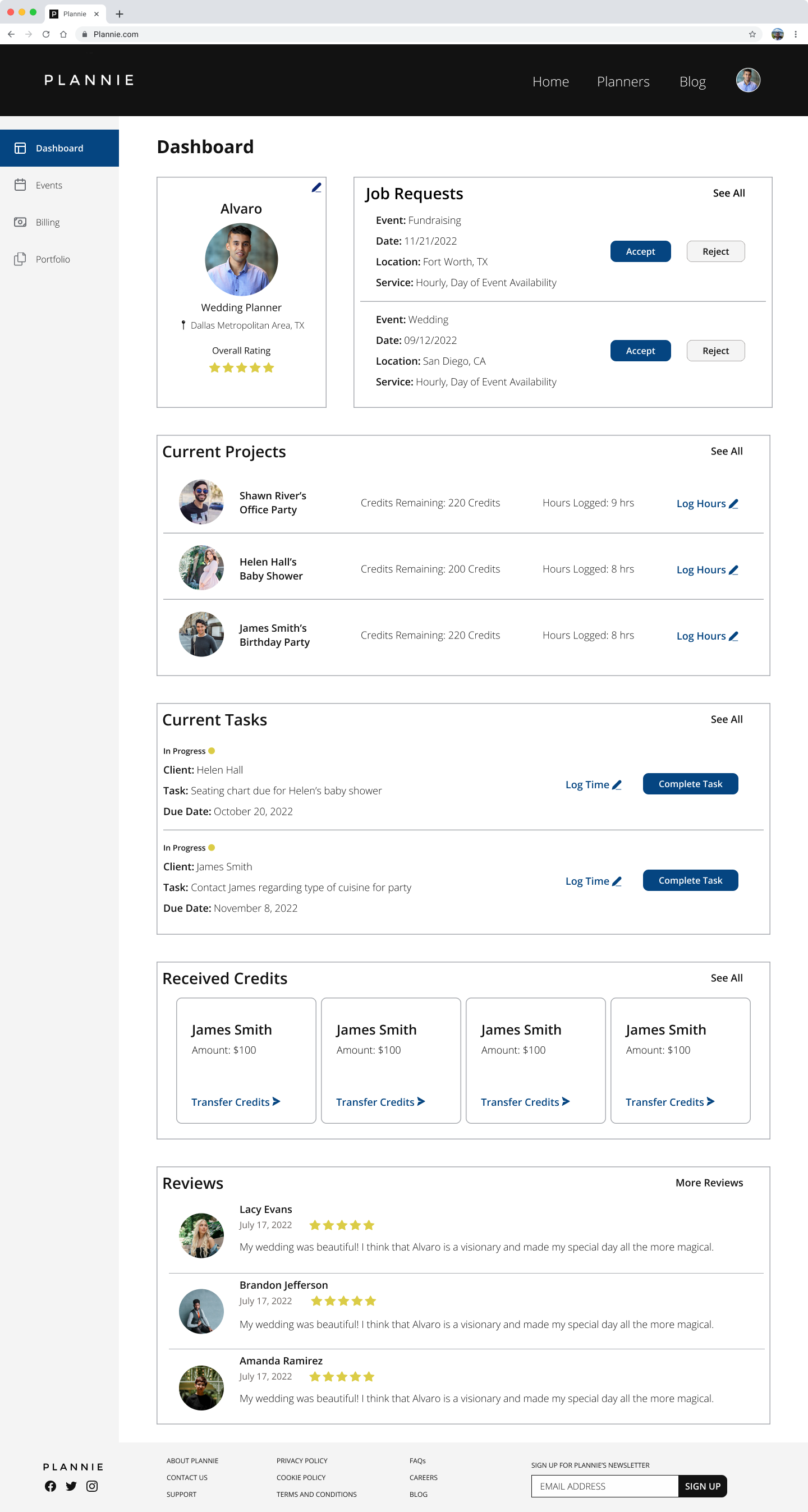 Overview
Plannie is a B2C global platform where you can find local event planners and producers for hire from cities worldwide. Plannie will help with any size event such as short-term event consultation, staffing at events, budgeting, timelines, logistics, and venue search.
Problem
Plannie is the first global platform where you can find local event planners and producers for hire. The problem is that there is no marketplace platform for the user and planners to connect directly.
Solution
As Plannie expands, it is essential and beneficial for users to have a dashboard, where they can connect easily with each other. The dashboard will provide an all-inclusive way for communication between planners and users to keep track of tasks, see current and past jobs, view finances, a platform for users to leave reviews, and much more.
Process:
Discovery

Ideation

Design

Developer Handoff

Reflection
Existing Platform Review
The overall product has been designed by a larger team. However, for the Dashboard and Events page, I received two Jira tickets that clarified the major updates:
Revamping the user interface to make the pages look less congested and more easily navigable.

Improving visual hierarchy across all screens to make pages more readable and appear more professional.

Adding a docking messaging system for users and planners to converse.
Improving the user interface will make users feel more comfortable using and trusting the platform, and be more confident in their decisions while using Plannie. My goal is to redesign their current dashboard and create an events page.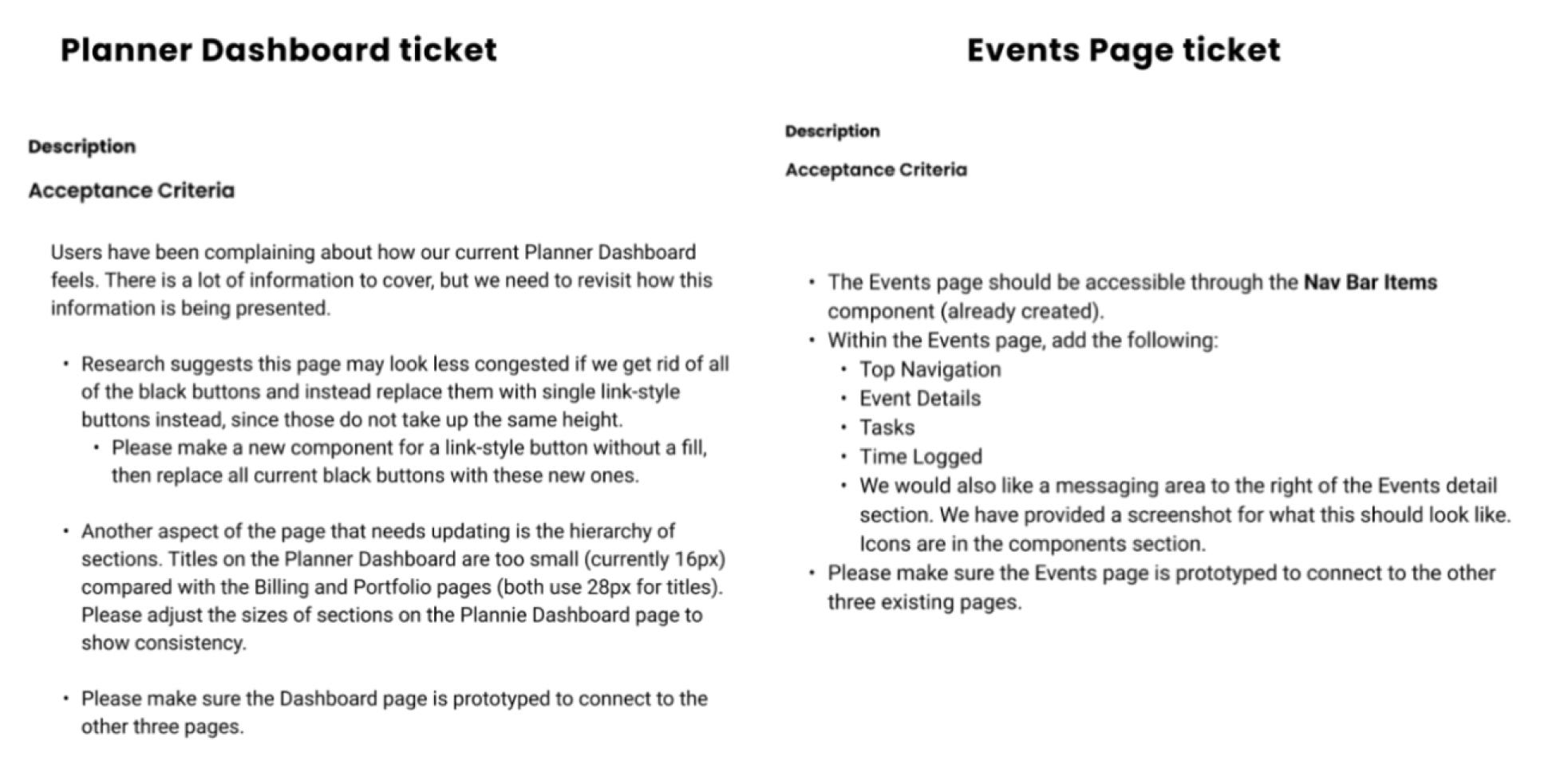 User Stories
Using the user stories helped me discover how to redesign their current dashboard and what essential functionalities are needed for the dashboard.
As a user, buttons and page hierarchy should not make my page look cramped

As a user, I should be able to use the events page to message my Planner
Organization
As I moved forward in the redesigning process, it was essential to organize the functionality and the different components. The key points that needed to be addressed are as followed:
Hierarchy and visual design for functionality

Color changes due to accessibility issues

Consistency in the typography

Components

Icons
Style Guide
Early in the process, Plannie shared its brand guide with me, including some of the colors and visual aesthetics used. While staying true to Plannie's brand, I used the original colors, such as black and grays, and then added a pop of color to the style guide that would break up the colors. The style guide includes components, colors, buttons, wordmark, and typography.
Hi-Fidelity
Using the style guide and components I created, I designed the screens accordingly. I was tasked to clean up the design and add the event pages. I transformed their cramped and cluttered screens, into a more precise and clean look, went page by page cleaning up the design to make sure alignment was in order, adding color to break up the design, and fixing the layout to create a better flow. I noticed that the sections were not built using frames, components, and auto layout, and took it upon myself to apply those tactics.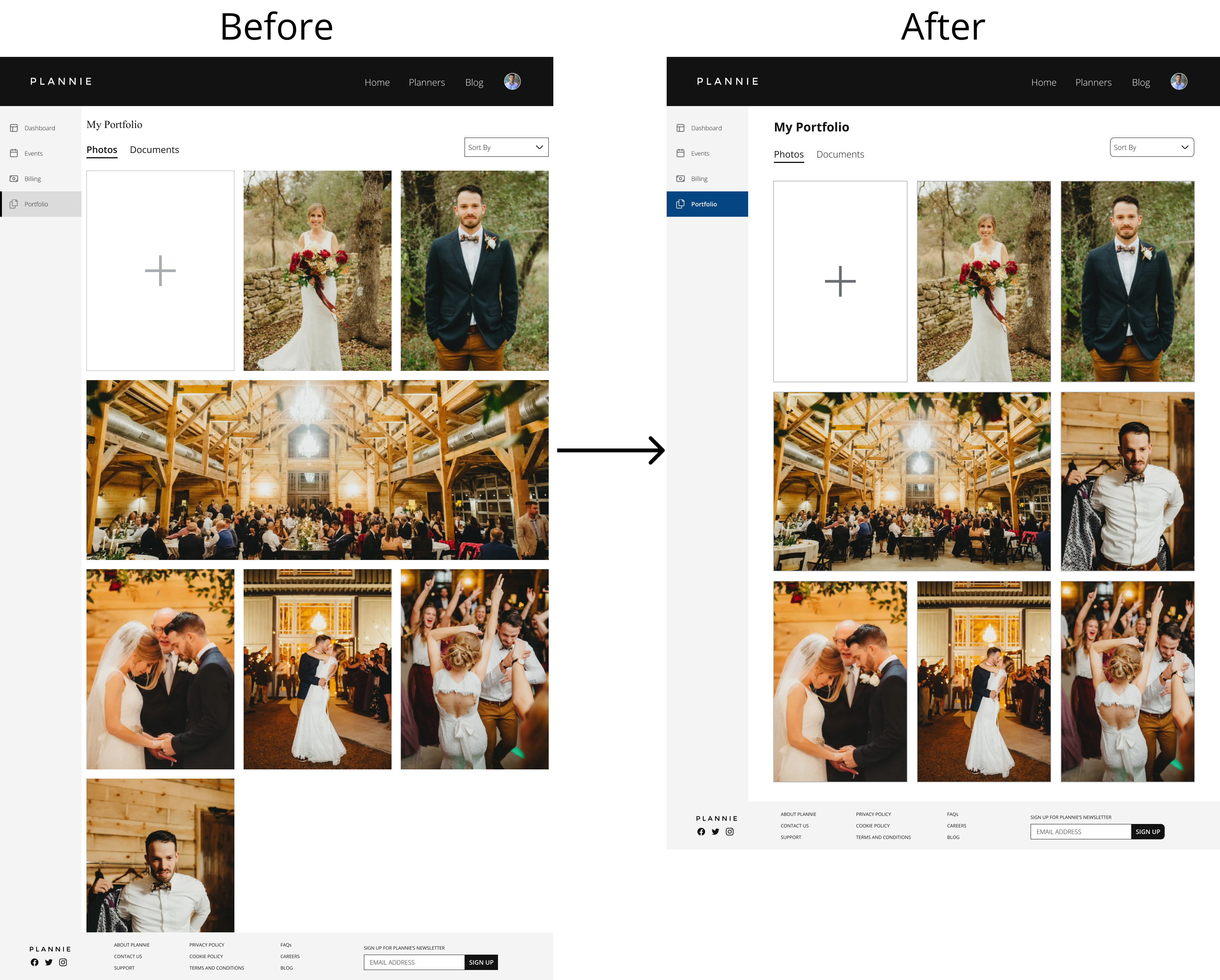 Portfolio
The portfolio page was lacking consistent padding and alignment. I corrected this by adding an auto layout and adjusting the padding overall. I changed the placement of the photos for better functionality across the screen, making the page more coherent.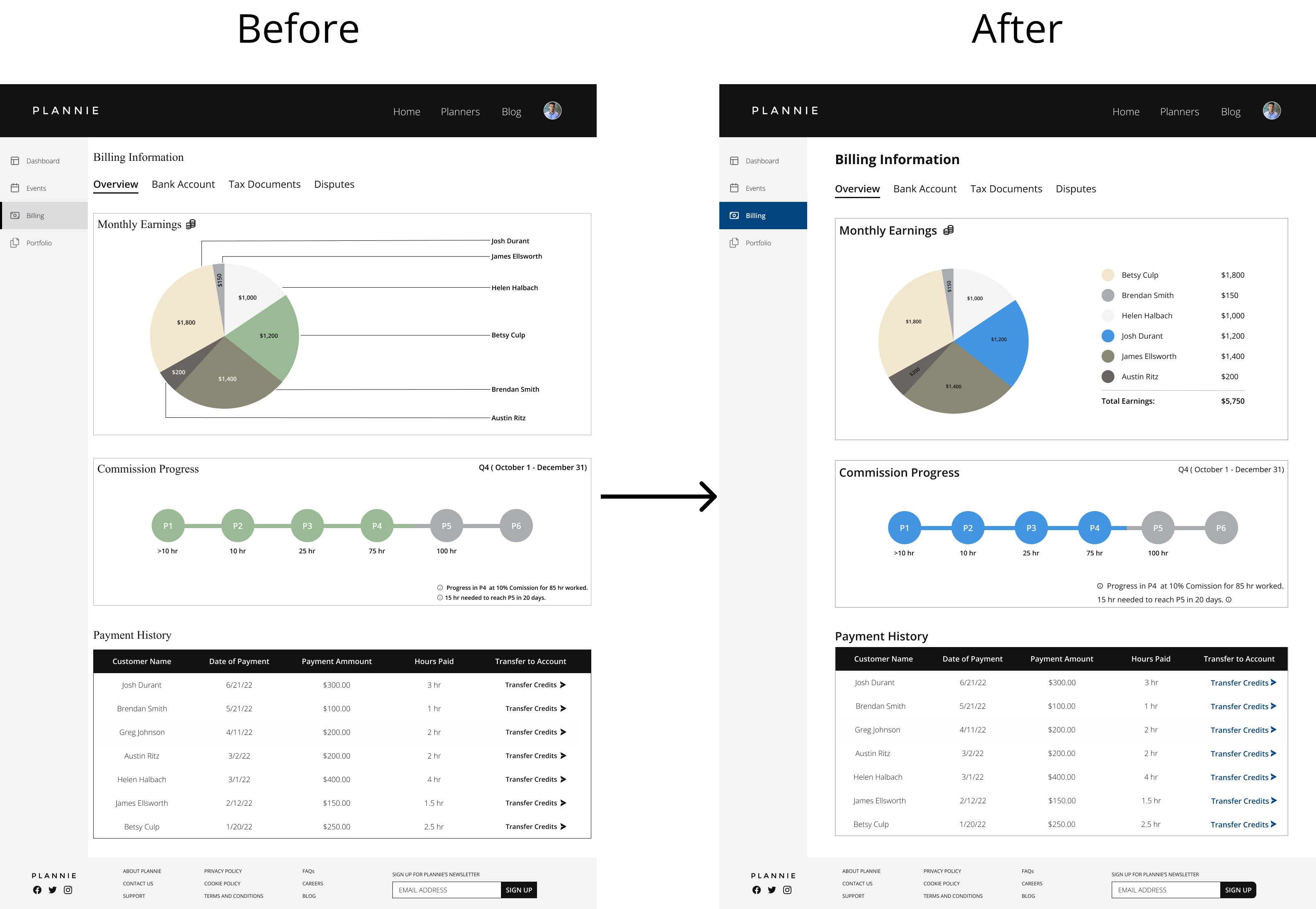 Billing
The next page I worked on was the billing page, which lacked consistency in its padding and alignment as well. I made sure to stay consistent with colors moving forward. I cleaned up the pie chart to be more aesthetically pleasing and easy on the eyes.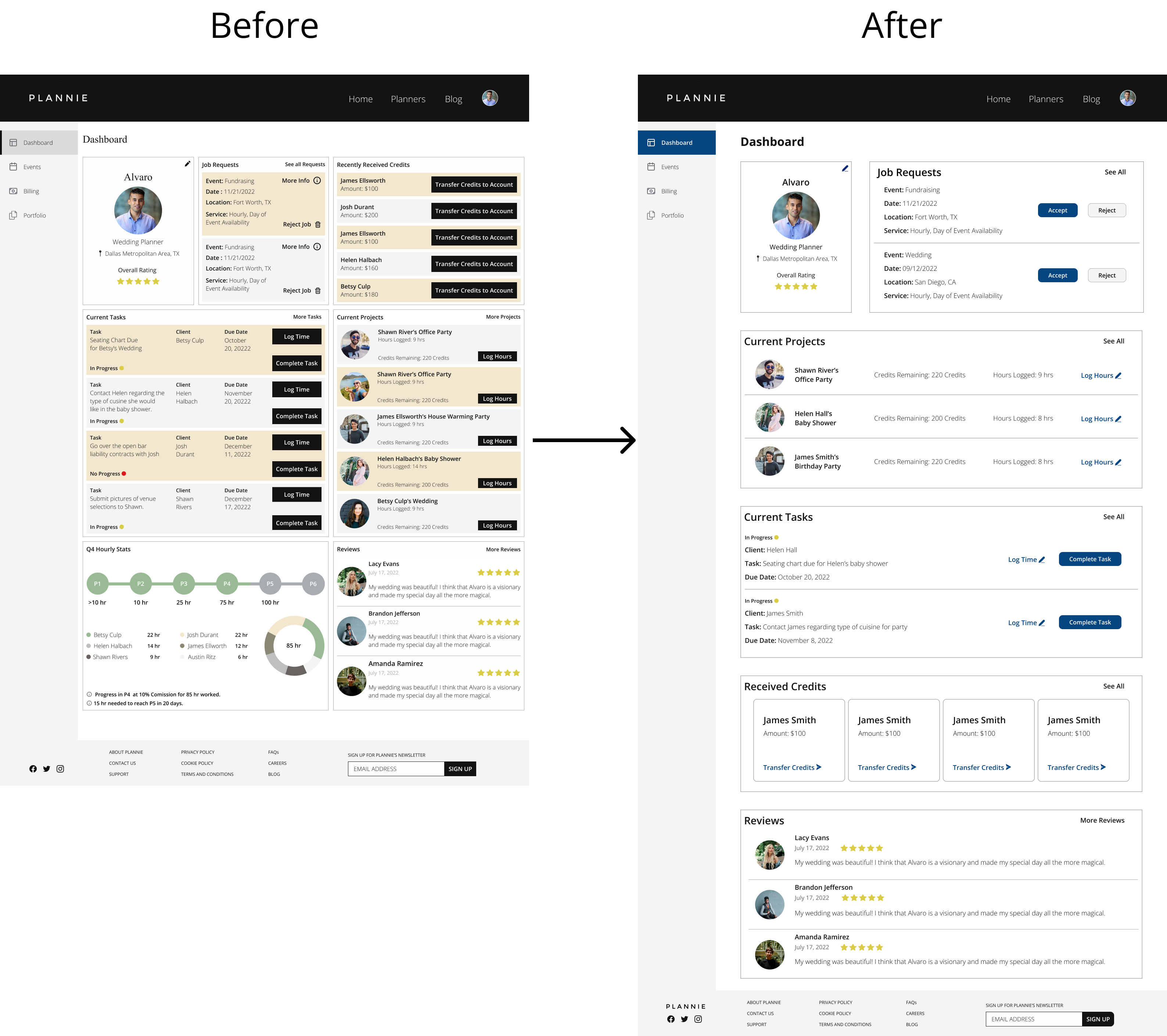 Dashboard
Moving on to the dashboard page, I was able to give the page a new look by adjusting padding, alignment, and grouping sections into auto layout, creating a less cluttered feel. I replaced all of the black buttons with link-style buttons for breathing room, then edited the typography to ensure consistency and adhere to visual hierarchy standards.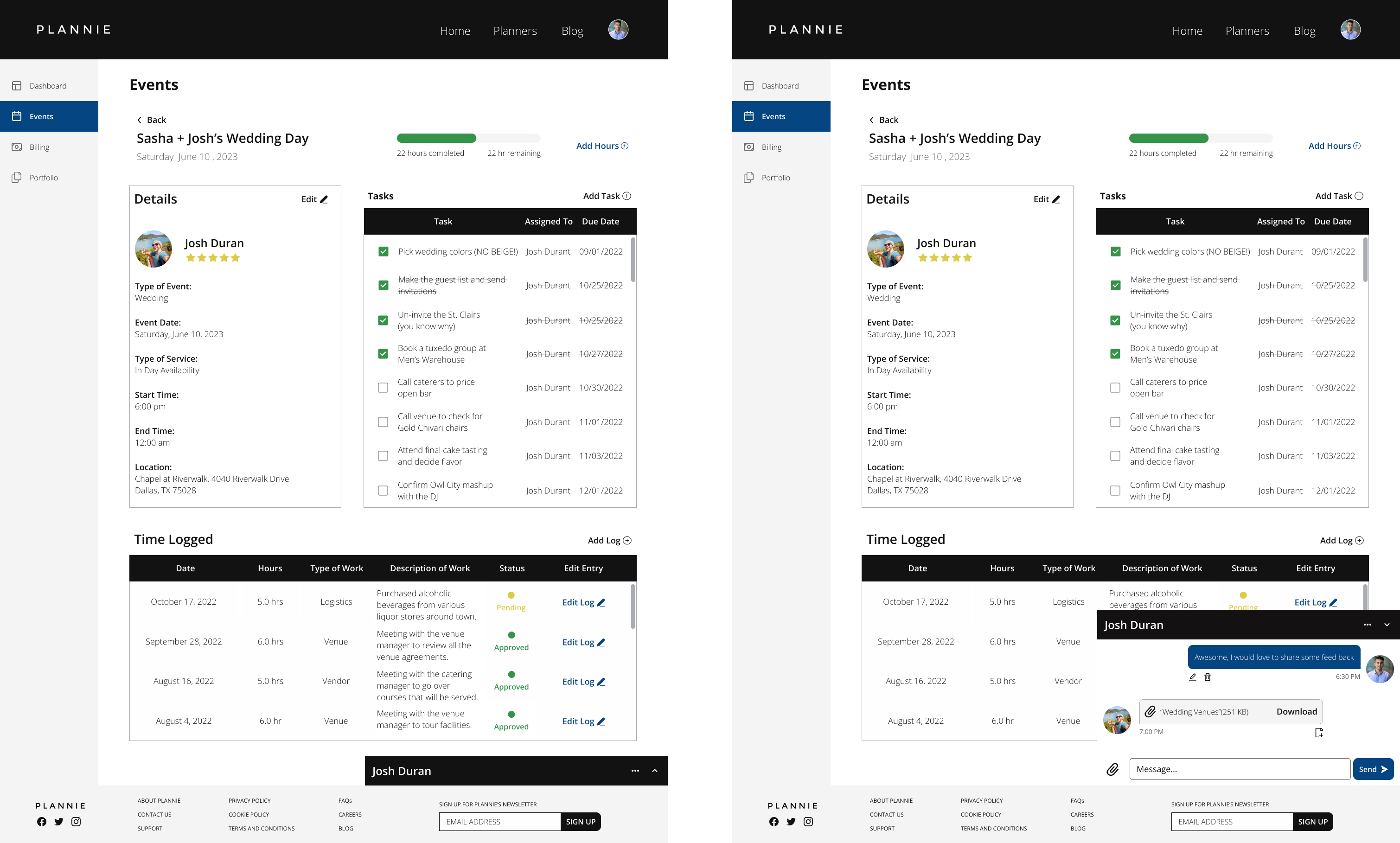 Events
Plannie needed an events page to make it easier for planners and clients to interact. Keeping in mind the importance of information hierarchy as I created this page from top to bottom, I continued to stay consistent with spacing and size guidelines from the other pages. I then implemented the components I have created so that the design would be universal and could be used again for a more structured experience throughout. Lastly, I created the message pop-up modal with an opened and closed variant, allowing users to easily access their messages.
Prototype
The final step was to prototype the screens to assure they all flowed together. Using Figma's prototype feature, I connected all of the pages to their respective sections and made the message component collapsable.
Takeaways and Final Thoughts
Plannie was a small part of a larger project, giving me an exciting challenge to ____ allowing my essential focus to be on the user in terms of information hierarchy, functionality, and minimal design features. In contrast, the more prominent team focused on letting users connect directly with event planners without needing extra assistance from Plannie itself.
The biggest challenge for me was entering this project midway and I overcome it by making it a priority to stay organized while making updates.
I enjoyed working on the redesign of this project, and if I had more time with this project in the future, I will improve Plannie even further by updating Plannie's style guide and using more engaging and eye-catching colors. Overall, I am happy with the redesign of this project and have achieved my goal of making Plannie an accessible platform for users and planners to connect directly without Plannie's involvement.
Thank you for reading my case study!
Want to share ideas & discuss ways to collaborate? Send me a message!